I sit locked in my prison cell. Lava drips from the ceiling and oozes down the walls. My mother, Emberfire, tries to tell me it's only temporary. She says, "Don't worry, Flametalons. We'll get out someday. The other dragons will find us." I think, Yeah, Right. I'm going to be trapped here the rest of my life. I know I shouldn't be so negative, but  it's only the truth.
  My father, Smokegaze, looks out of the prison wishing to free us all. Little does he know that may soon be a reality. I have been practicing an escape plan. I have been digging a tunnel and now is my chance it is finished. We were only caged up, because my parents were from riviling kingdoms, but they weren't prepared for me. Not for my intelligence. For my strength. For my courage. 
  "Lights out!" I hear the guard call. Finally, I think. I whisper, "Mom, Dad, we can escape. Follow me!" I spoke too loudly on the last part, though. I hear a commotion down the hall. "Hey! Nobody move!" the guards yelled. "Go, Firetalons! Go! We'll meet you above ground!"
 I ran into the tunnel. My last sight of the volcano, my father's body laying, twitching as his life bled out onto the floor of the cell. The last sound, my mother's dying cry and a dull thud as her limp body fell to the ground. I ran through the tunnel. Once I escaped, I 

could no longer hold in the wail I held in my throat. "Mommy! Daddy!" I cried. I was only a moon old. I didn't know what to do without them. 
  I don't know how long of how far I ran, but I knew I was an outcast. Neither of 

my parents kingdoms would take me. I looked up and screeched,"Why?! It isn't fair!"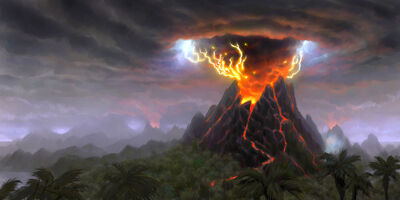 My parents had always told me about the great dragons. They were the creators of everything. They collected the souls of the dead and brought them to paradise, but why did they have to take my parents? Why now?
    Suddenly, I hear flying over my head. A bunch of dragons were flying overhead. I looked up and said,"Hey! Down here!" A small hybrid dragon glided down from the sky.
 "What are you doing here alone, Stranger?" she asked."M..my parents...just died," I responded. "That's awful! My parents recently got killed by the people in the village. My name's Furyheart. What's yours? she responded, looking curious.
 "I..I'm Flametalons," he replied "Come with me, Flametalons." 
   That is how I ended up in the Dragon's Valley and met my wonderful mate Furyheart.